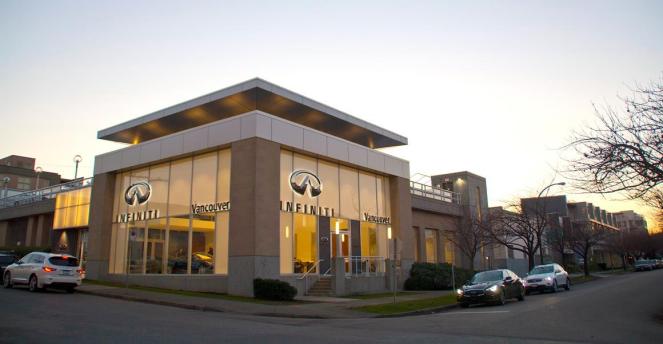 DILAWRI GROUP OPENS SIXTH NEW DEALERSHIP IN 2013 WITH INFINITI DOWNTOWN VANCOUVER
Canada's largest automotive group expands to 48 dealerships
December 5, 2013 (Vancouver, B.C.) - The Dilawri Group of Companies is pleased to open the doors to its sixth new dealership this year with the recent completion of Infiniti Downtown Vancouver. The boutique showroom and service centre located at 1718 West 3rd Avenue is the second Dilawri-owned Infiniti dealership to open in 2013. The new facility marks the Dilawri Group's 48th dealership in Canada.
The opening of Infiniti Downtown Vancouver is part of the Dilawri Group's aggressive expansion across Canada, with concentrated growth in British Columbia, Alberta, Saskatchewan and Ontario. New Dilawri dealerships in 2013 include:
Frost GM Cadillac in Toronto
401 Dixie Infiniti in Toronto
Dilawri Collision Centre in Calgary
Porsche Centre Vancouver
Mercedes-Benz Langley
Infiniti Downtown Vancouver
"This has been an incredible year for our company. We've experienced increased sales and record growth with the rapid expansion of our group," said Ajay Dilawri, Dilawri Group of Companies. "We are so pleased to welcome an Infiniti dealership to our group for the second time this year. Infiniti Canada's emphasis on quality and service fits perfectly with our corporate values and aspirations."
The company will gain even further momentum in 2014 with 14 new dealerships slated to open before the end of the year.
Earlier this year, Dilawri opened 401 Dixie Infiniti in Toronto. Both 401 Dixie Infiniti and Audi Downtown Vancouver feature gallery style showrooms and state-of-the-art service facilities showcasing Infiniti's new Retail Environment Design Initiative (IREDI).
High resolution photos, facility tours and media interviews available upon request. For more information about Infiniti Downtown Vancouver, visit
www.infinitidowntownvancouver.ca
.
Date Posted: December 5, 2013